JKZ induction heater has also been widely used in the oil and gas industry. In the situations like pipeline laying process, the application of pre-weld heat treatment, post-weld heat treatment, oil pipeline insulation, and brazing of various drill bit carbides, you can always find the existence of oil and pipelines induction heating. The place where the induction equipment appears most frequently, especially in the heat treatment of welding, is the working field where the water source is far away and the equipment that has high flexibility and convenient heating is needed. To achieve better oil and pipelines induction, JKZ has developed a special air-cooled equipment in accordance with the customer's application scenarios, so as to prevent the problem of the traditional equipment requiring water cooling from happening. Moreover, the sensor of our air-cooled heater is designed with a flexible cable that can be wound around pipes of different diameters; thus, ther air-cooled induction heater produced by JKZ has now gradually become one of the most popular products among our customers. Designed to meet the requirements of long holding time, JKZ's induction heating machine for oil and gas industries uses advanced software control and preset heating curve. You can easily conduct a heating process of several hours just with a single finger operation.
Advantages of Induction Heating in Oil and Gas
Energy saving
Reduce processing time
Temperature control
Control and local heating
Potential as an integrated assembly line
No physical contact
Improve the working environment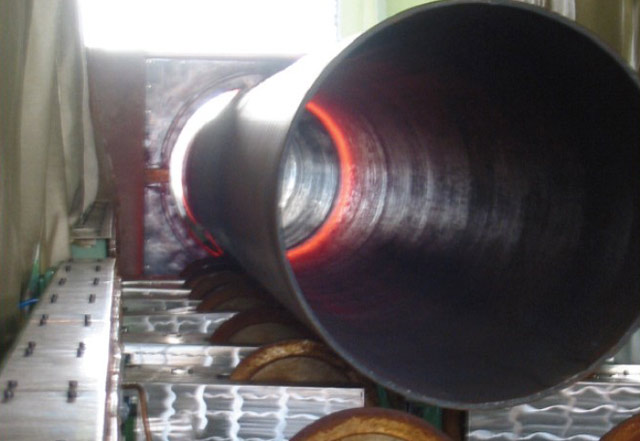 How Induction Heating is used in the Oil and Gas Industry?
Drilling tools-brazing and disassembling carbide blades
Adhesive curing and coating repair of oil and gas pipelines and steel pipes
Induction heating for pipe bending or forming
Heat treatment and hardening of shafts and tube ends
Used for induction preheating of welded steel pipes on drilling rigs and pipelines
Preheating and stress relief of welding seams of oil tanks or drilling rigs
Pedestal heating for biomass processing for biofuel production